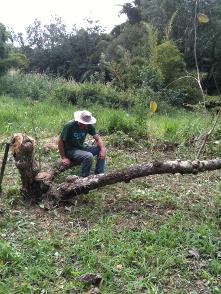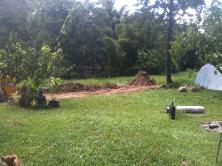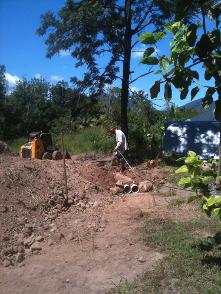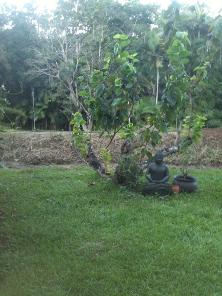 pandurunga permaculture farm
a permaculture sanctuary
Pandurunga, nestled in the foot hills of the Pioneer River catchment, on the Finch Hatton Gorge Creek is a 30 acre property with approximately 7 acres of river flat land and about 23 acres of quite steep hill area. We actually have our own hill with gullies that wrap around each side of the hill from a saddle which continues up to the Eungella National Park. Finch Hatton Gorge Creek flows through the site very close to our eastern boundary. (property boundary and google map)
Pandurunga was originally purchased in 1985 by Harmony with her intention to live here and share the property with like minded friends and to create her own paradise here on mother earth. Circumstances during her ownership had allowed her to put in some fruit trees and a shack with minimal infrastructure but struggled to spend the time here that she really wanted to put into the place until she met Luke. Harmony and Luke moved onto Pandurunga in June 2014 with the intention of combining their past understandings and experiences to form a future together that goes something like this.
We are in the process of developing the site, based on permaculture principles, to be a demonstration of permaculture for this region as well as an educational facility. This concept in turn will allow us to provide a sanctuary for individuals who may need re inspiring, further their knowledge or just take time out from activism or project work.
We also see a need for retraining our youth and disadvantaged with skills which we hope will empower individuals to stand on their own two feet within the broader community where we can care for our elders as well as our young. This skill sharing will assist us in the development of the site. We are currently seeking the appropriate qualifications to honor the time and skills shared here as recognition toward qualification through internships.
Pandurunga. A small example of a lifestyle which combines our shared understandings of the Rainbow philosophy. Permaculture and Deep ecology, where we invite the broader community to share with us through Open days, workshops, small gatherings, wwoofing, internships and other opportunities , our journey, of developing and living on this site.
Paradise on earth can be achieved if we create and share our own gardens of Eden.